Quote from: badmonkey –

Quote from: Steeley – I trust that you refer to kicking back and burning the 2x4 scrap after completing the construction project..

But if that's cedar, I could have used that..


Not exactly. Good eye on the two by.

I was camping in the Uwharrie National Forest. Importing firewood from other locales is a big no-no, as you're likely aware. You can buy locally cut wood. Usually it's about $7 or $8 for a handful of matchsticks. The two bys were an experiment: less than $3 for a two by, kiln dried (so no pest transfer concerns, and no grief from a ranger), easy lighting, easy storage, cost effective in relative terms, and readily available. They burned longer than I imagined too. I'll call it a win!


Well, I've had 2x's on my mind for awhile lately.. for background, we have to go back about 22 years .....

My house was built in 1973, and I bought it in 1989.. the driveway transverses across the front of the house to the garage (from this view, the garage is behind you to your right), which compelled the builder to construct the front porch thusly.. crappy design - the steps were too long for one normal step, and too short for two normal steps.. and no covering from above... sheesh.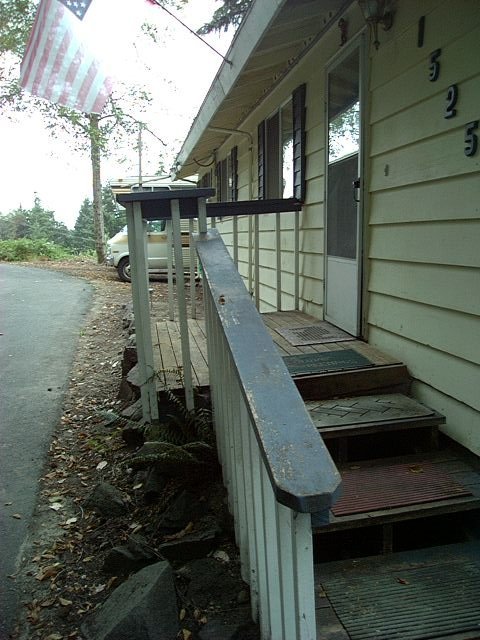 By 2002, being rained on for nigh on 30 years, that front porch was pretty sad - constructed of redwood, I decided it was definitely unsafe and had to be replaced (the wood was so far gone I tore chunks of it out with my bare hands). Now, because it was a "repair" I didn't need to pull a building permit.. (but nothing says I can't improve things a little bit, right? ..)


So in 2003 I designed and built a new porch and steps out of cedar, make it a little fancier too, ya know... and of course, needed to extend the roof line 5' to protect it.. the "California Gutters" (a 2x8 nailed to the end of the 2x6 rafters creating a channel sealed with some faux rubber crap), may be acceptable in Desert Hot Springs, but not here in the Pacific Northwet..)
That too just HAD to go.. All part of the "repair", you see...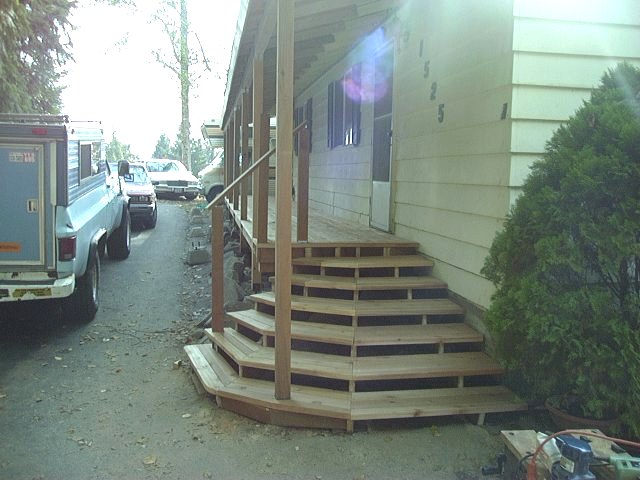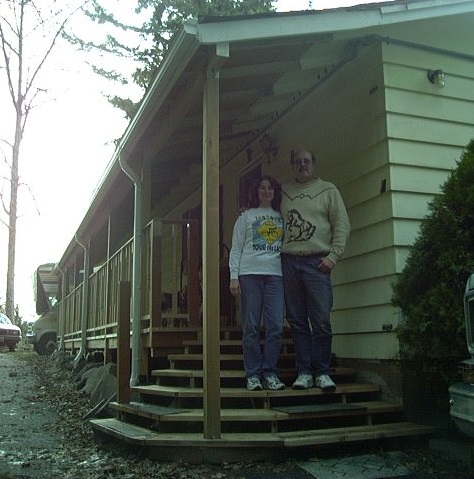 Well, after another 20 years I came to realize I really should have extended the roof a bit further, since the lower steps were still being rained on and were starting to rot out too (gotta look past my motorcycles to see what I mean..)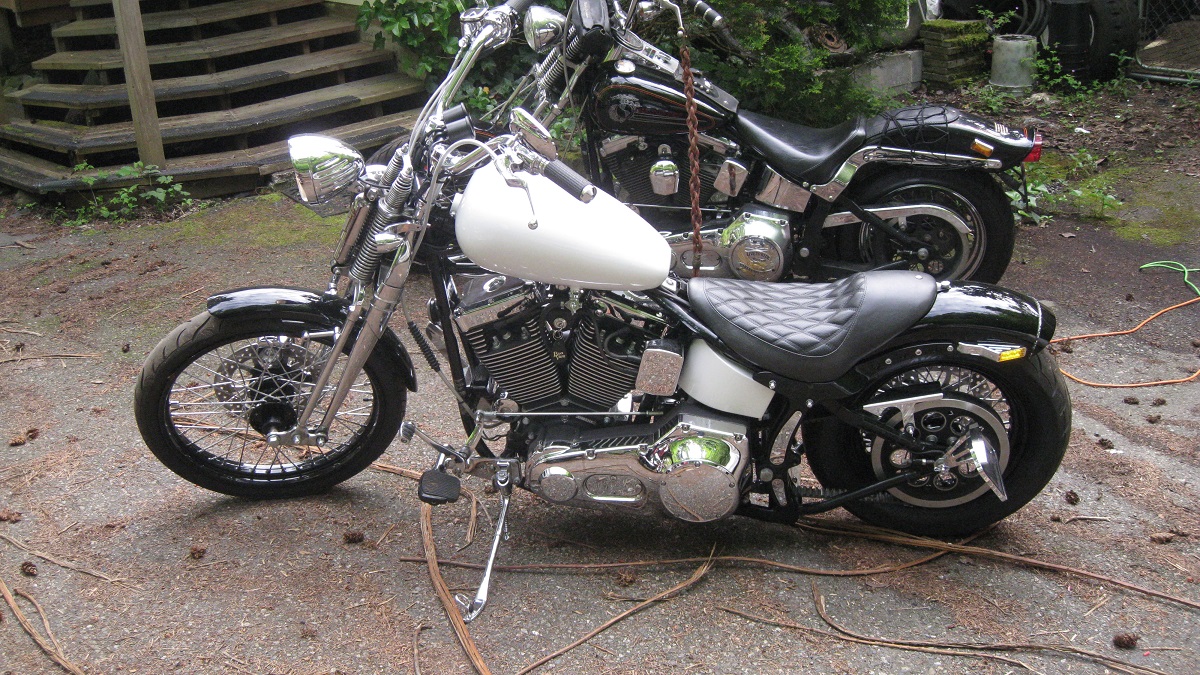 And if you notice, every one of those steps are composed of 3 cedar boards of custom cut size and shape.. no two are alike.

So I ripped the lower steps out, beefed up the understructure (originally done with treated lumber) and commenced to replace the steps with new cedar boards, this time varnished with several coats of 'Innovative' Wood Guard "no slip" coating. So yea - I'm tuned into 2x4's and 2x6's lately.

I also took my belt sander to a couple of boards I'm not going to replace, to verify the underlying wood was still close to the "new" color with all the dirt sanded off (which it is), so when I get all the steps I'm going to replace in place, I'll sand the rest of the steps down and seal them with the same wood guard.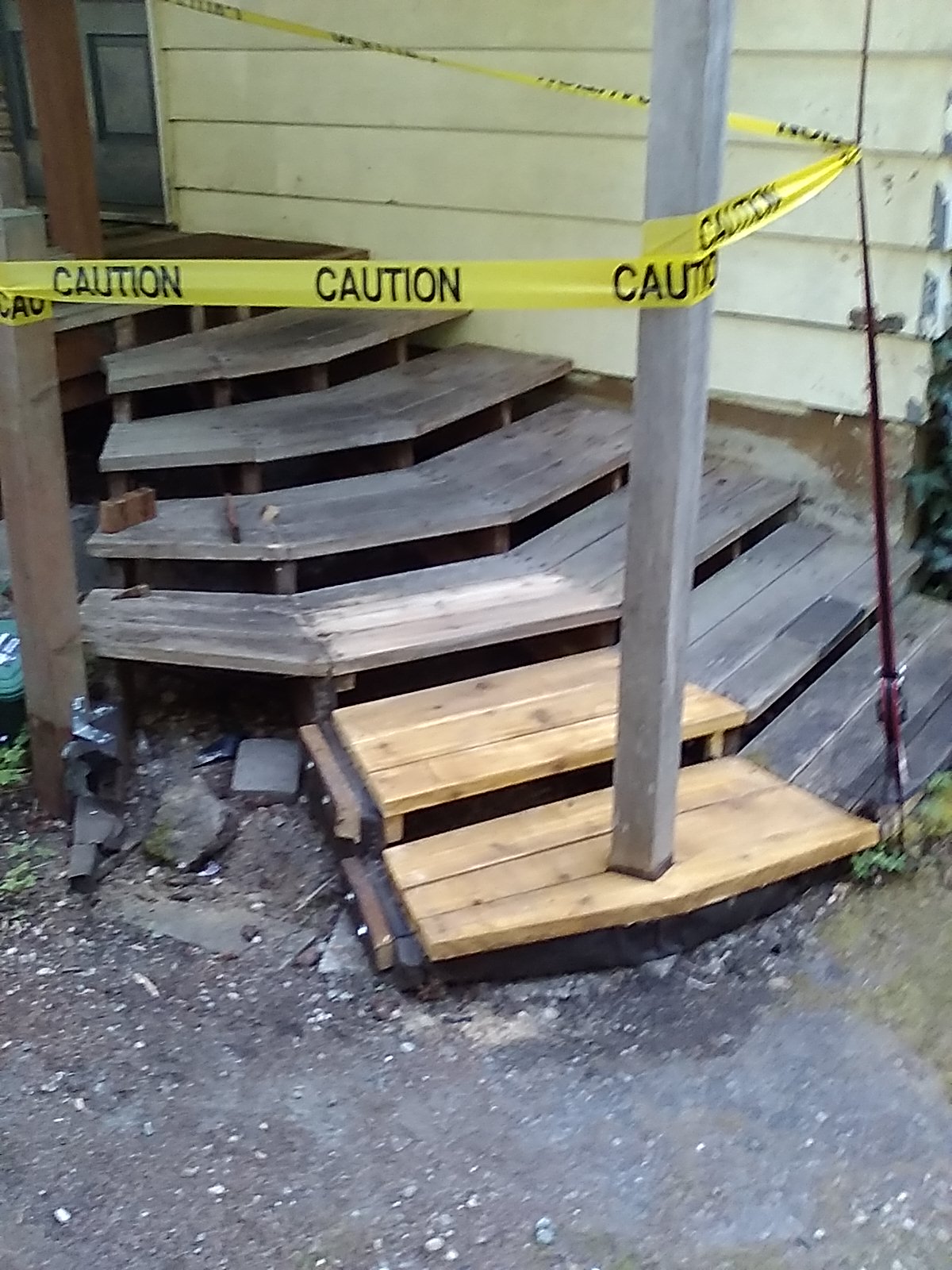 However, the project is going slower than planned because when the weather is this nice, I wanna go RIDE!


(But when it's all done, I'll too vanquish some stress by burning the scrap..)