Quote from: Spuds – I bet that over cab sleep area was either cold or hot ! Perfect for guests, or those who had to much homebrew Good middle of the night "thud" followed by, yea they will be fine.


The thud was usually me (no, you don't wake up and sit up - you'll get broke of that practice quickly. If I'd spent time on boats in the Corps, I would have already been thoroughly broke of that habit). The rig had a 10 gal propane tank mounted (and I had two extra 20 gal tanks and installed the fixtures to plumb them in while parked), and a PDG heater. The roof air conditioner was oversized, and so between the heater, air conditioner and a roof vent immediately over the bed, I was comfy. (The other bed required tearing down the table, and was only a "small double" - that was the "guest accommodations"). However, heat rises so while that compartment was nicely vent-regulated, at floor level not so much and I did end up replacing all the rigid plastic water pipe with food-grade flex when I was in Grand Rapids in Feb. '05 with a foot of snow on the roof and ground, and water temperature below solid. Flex pipe will expand a bit.. the rigid plastic pipe just breaks up into shards. That was a 3-season motorhome, and cold/snow winters took its toll on her..


Quote from: SpudsCan't tell from the picture, but I hope that is an offset smoker you are hauling, its the only proper way to cook Brats. These days I'm a pellet smoker, but time was lump and sticks is what I did. Now its pellet's and an phone app


THAT particular shot was a Yamaha 1981 XS-850 triple (Venturer) on the trailer. I bought it in 1981 (wanted a Harley but wasn't going to buy an AMF version). I'd had a XS-650 twin in the military that was bomb proof, so I decided I'd stick with the Yamaha Brand until the 850 died and Harley hopefully got its act back together by then. (Harley bought themselves back from AMF in 1981 and it took a few years before they cleared the AMF influence out of the production pipe. When they came out with the EVO motor in 84, that was the turning point..)

Meanwhile, the Yamaha 850 was built off the 650 twin, produced until 1979, when they introduced the 850 Triple in 1980. (Some engineer got to thinkin they had a 2-cylinder side-by side XS650, and a 4-cylinder side-by-side XS-1100, why not 3?)

Well, in 2005 the 850 was still going strong, and it made a nifty tow vehicle (not so sweet in the snow however). I finally broke down and bought a Softtail Springer in 2007 and sold the Yamaha to a friend in 2009. He used to bring it by for servicing and tuneups since the bike was older than most of the Yamaha wrenches and they had no idea what to do with it. I got him turned onto a group of triple owners for unobtanium parts (there's a guy in the group out in Iowa that buys old triples and sells used parts or machines new parts as necessary), and "learnt him" on "Zen and the Art of Motorcycle Maintenance" (Yamaha triple version, not the Honda Super Hawk). It's

still

running.. (And if you want any 850 Venturer and can even find one in good condition it costs more now used than I paid for it new and almost 10 times what I sold it for 14 years ago).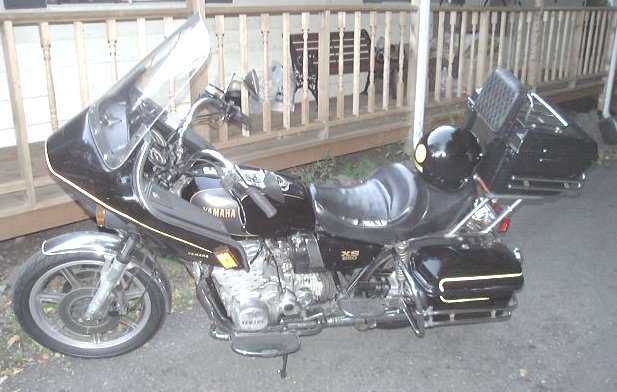 It was a one-of-a kind triple - I ordered it custom from the dealer - black, Markland floorboards, heel-toe-shifter, center rear trunk, King/Queen seat - Yamaha will tell you they never made a Black 850 Venturer ("You must be thinking about the XS 1100").. ummm... nope.. do you want to see the original sales receipt? 😎
(Yes, the Pacifico fairing and saddle bags were from the '79 XS1100 Venturer parts catalog, the frame and motor was a 1980 XS 850 G "standard", still in the crate). Yamaha only made the 850 for 3 years, and those were mostly the Specials (same motor, slightly smaller diameter rear tire and frame rake so it felt sportier, much more popular than the "G" model which is why I found a G still crated..) and the 850 Venturer version for the last two - 81 and 82, and those were either blue, red, or gun-metal gray) before switching to the "Venture Royal" in 83, a completely revamped tourer.

Mama didn't like the Harley softtail as much as the Yamaha (she literally would occasionally nod-off on the back of the 850 - I'd elbow her in the ribs as the bike would start to lean one way or the other), so for her comfort I bought the electra-glide for her and chopped the softtail for me..

Anyway, 'nuff of that.. the smoker is on the other side of the scooter, a bricks n' sticks version (Coleman, I think). If you've never had a mesquite-slow-smoked turkey with apple/walnut stuffing for Thanksgiving you've not yet rounded out your bucket list..

But - yours has a phone app ??
How about a camera and mic audio so you can watch your brats brown and hear them sizzle while watching the game? "Alexa, please flip the two inside brats and pour me a beer.." (Sheesh, I thought that's what the wife is for..
)


Quote from: SpudsGoing to have to pass on the caddie ... now if you have a 1970 or before El Camino SS (390 min) we can talk ... or a 58-62 era vet, one of the sweetest looking cars ever (IMO). Sadly after watching Mecum and Barret Jackson auctions, the only thing I could afford is the Hawaiian shirts the bidders like to wear LOL


Yea, I love the early SS Camino's. And vets are.. well, vets.. A childhood friend of my wife's collects vets, and he had a '62 original condition - fun car but I'm not fond of scooting around feeling like I'm driving a 360 HP go-cart scraping my hemorrhoids over the asphalt. The wife has a 74 Porsche 914 that gives me pretty much the same pucker-factor..
The cop that pulled me over on 101 gave me a ticket for 100+ (yes kiddies, that mph, not kph) in the Porsche. I asked him WTF? since I was in heavy traffic doing 55mph when I saw him on the side of the highway before he pulled out and pulled me over - he told me the airplane had been tracking me and the vet I was playing 'cat-n-mouse' with since Goleta 80 miles behind us..
(I'd passed the vet on the side of the road chatting with a CHP about 4 miles back.. I'd giggled too soon..)

Turned out the judge had a 911 Carrera and only fined me for 90+ ("the aircraft aren't that accurate") or I'd have gotten a 'reckless' and lost my license..
Don't know what happened with the Corvette pilot.. But yes, they are all expensive.. to buy, to own and maintain, to pay the fines..


[Edit: Oh yea, the 1969 Chevelle Malibu shown in my avatar is a 425 ci Yanko SS (replica - when I bought it, it was a wrecked 250 ci in-line 6-cylinder with a 2-speed powerglide transmission), similarly loaded up and shipped as your RV was, to its new owner down in Florida.. that was originally the intended topic of my reply before I... Hey! Squirrel!! ]