1
You can have sub albums. What you need to do is add a few albums under a user or group or ownership level.

Then when you view the albums of that user or group you will see on the side an arrange albums option, choose that. You are now in a drop and drag interface like in the manage boards area of the APC. Simply drag an album towards the right and drop in on the album you want it to be a child of. You can have many levels as well.

The album order shown here is maintained, so its up to you to sort them however you want and that is how they will be displayed.

ETA: that D&D is not ajax, so arrange it like you want and click save !

Not very intuitive...
and I get an error if I try to view and album with 2 sub-albums.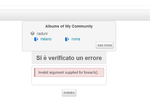 in Elkarte error log:
Tipo di errore: Generale
Warning: Invalid argument supplied for foreach()
/index.php?action=media;sa=album;item=7
File: /themes/default/levgal_tpl/LevGal-Album.template.php
Line: 45
I am using the latest version of Levgal