A couple miles "up-lake" (Lake Havasu) from the Parker Dam on the California side is a little resort called "Black Meadow Landing". They have a bar right on the Lake shore (or at least did when I lived in the area some 40 years ago, doesn't look like it's still there) that had a lot of pictures of the Parker Dam being built back in the mid 30's, and Dam-related memorabilia - I think the guy, Gene, if I remember correctly, that built/owned it worked for/retired from the Metropolitan Water District that maintained the dam. Anyway, he also had a few pictures of divers down inspecting the dam over the years, and one I remember was odd.. it showed a diver with a couple of spots - sorta like this (this is an approximation I have made from memory to give you an idea, in the actual picture the diver was facing the camera directly rather than a side shot..).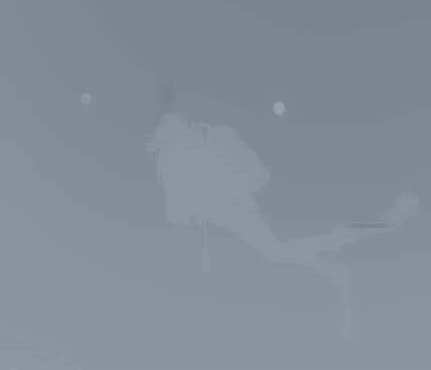 Supposedly taken a few feet from the base of the dam just above the bottom on the lake side in the late 1950s, hard to make out the diver due to the lighting and murkiness of the water, I asked him about the 'dots', positioned as if the diver were to reach out with both hands in a "Y" and point at them. Gene told me they were the eyes of a monster catfish behind the diver. Gene also said it was that divers last dive at the dam.

Now, the old hotel in Parker had some old-timey picts in the lobby, supposedly one with both Henry Ford and Louis Chevrolet were in Parker during a "cross country car race" (I've never been able to confirm actually happened), and another of the Hotel owner (who lived in a 4 room shack a block north of Arizona avenue, one room for his horse!) circa 1924 holding up a tarantula by its back legs, its body mostly covering his, with its front legs dragging on the ground (he was only 5'6" or so, but still..).

OK.. fun stuff, but Gene swore up and down the diver photo was genuine and not "retouched".